Soundnet set for EAG International
UK-based music provider Soundnet is looking forward to another successful EAG International Expo later this month.
For Soundnet managing director Simon Davis, EAG International is a must-see event and a "valuable opportunity to gain feedback from existing customers and to introduce new services."
"We've attended industry shows for a number of years, including both previous EAG International Expos," he said. "We're delighted that the UK industry, once again, has its own show and our team is looking forward to meeting customers on the Sound Leisure/Soundnet stand. We see EAG International as a valuable opportunity to gain feedback from existing customers and to introduce new services."
Soundnet's expertise in business to business music also extends to video and encompasses site profiling, the sourcing of content, distribution in encrypted form and the handling of legal and compliance issues.
Savvy venue owners now understand music's importance as a component of their brand mix and can call on experts to ensure that their venues are supplied with music content that supports the business, throughout the day, whatever the occasion.
As exclusive music content provider to leading UK jukebox manufacturer Sound Leisure and music programmer for 15,000 public venues, Soundnet has a comprehensive understanding of the amusement and leisure industries.
"We are constantly in touch with 400 or so record labels and can supply new releases as soon as they are on air and often before they reach the shops," said Davis. "Soundnet's comprehensive management of all legal issues ensures total peace of mind for both operators and site owners."
Whether Soundnet is supplying a jukebox with DVDs or content is delivered digitally via the web, data retrieval is used to build on the basic content until the profile is perfect for the site. In this way, a web-enabled jukebox can carry up to 30,000 tracks.
New for EAG International Expo will be Soundnet's unlimited access service, offering a seven million track library. The company will also be showing 'Milestones in Music', which enables the selection of chart music by memorable date, stretching back as far as the origins of the charts themselves.
Innovative Leisure, the UK-based adventure attractions specialist, will once again be among the exhibitors at this year's EAS and LIW trade shows, being held at the Amsterdam RAI, the Netherlands, and the NEC Birmingham, UK, respectively, in September and October.
The UK Gambling Commission has fined National Lottery operator Camelot UK Lotteries £100,000 after it found it to be in breach of its licence.
LAI is to present its Piñata redemption game at the American Vending Sales Product Kick-off in Illinois, US, this week.
Related articles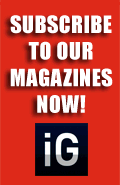 Our Publications
Our Partners