MyGame iPhone app - BadBeat.com
Badbeat.com has launched a new iPhone app to complement its free MyGame online poker training system.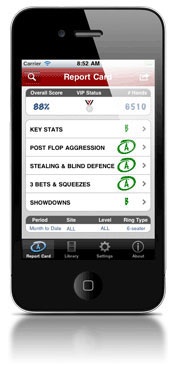 The new free app enables MyGame poker trainees to share and compare their report cards with other players. With it, existing Badbeat.com members can check and share score cards on popular social networking sites such as Twitter and Facebook, get advice on play and watch videos on how to become a better player.
Like the browser-based elements of the program, the MyGame app is specifically tailored to the individual's own play. Main areas of their game are summarised in a simple report card but they can drill-down into detailed explanations and suggestions on how to improve.
Comtrade Gaming, a supplier of enterprise-level gaming platforms, has introduced iCore Engage.
BetSoftGaming has added two more titles to their collection of ToGo mobile games - Heist ToGo and Sushi Bar ToGo.
Alongside the previously announced High Society, Microgaming has added two more HTML5 mobile games to its collection in April - Hitman and Eagle's Wings.
Related articles
Our Publications
Our Partners