Saudi Telecom to promote online multiplayer games
Finnish game developer Star Arcade has confirmed that Saudi Telecom Company will promote its online multiplayer games to 25 million subscribers in its local territory.
Star Arcades' games are suitable for any platform that allows online multiplayer action and include features such as the Lobby for finding multiplayer opponents, as well as in-app chat and virtual goods.
"We offer a wide variety of communications and we serve an extensive range of customers on devices ranging from mobile phones to PCs and beyond," said Kerdi Altemiyat, service management director for STC. "Because of Star Arcade's technology, we can offer multiplayer social games to all of our customers."
"We are the world's first gaming technology company to enable a real-time multiplayer experience where Facebook users can play in real time against their friends who are using any kind of mobile device in any country," said Harri Myllyla, CEO of Star Arcade. "Everyone can just start playing."
Saudi Telecom provides integrated mobile, fixed and broadband communications services to 25 million subscribers in the Saudi market. STC is the largest telecommunications company in the Middle East and in recent years has gone beyond its local borders into international markets, forming a network of businesses and investments in a number of GCC countries, Asia and Africa.
The Barcelona Affiliate Conference, traditionally held in the Catalan city in October, is to move to Berlin this year and take place in the days following EiG 2015, which moved to the German capital in 2014.
Under a new agreement, Hrvatska Lutrija, the national lottery of Croatia, is to enhance its in-play offer in the country by integrating the live odds service of its long-term partner Betradar.
The attendance at ICE 2015 has been audited at 25,497, up eight per cent on the 2014 total and a new record for the event.
Related articles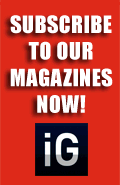 Our Publications
Our Partners