Parlay completes sale of assets
In conjunction with its trustee, BDO Canada, Parlay Entertainment has completed the sale of a majority of the company's assets to M Projects Assets, the original stalking horse bidder and the lending party to the previously announced credit agreement.
Despite a rigorous sales and marketing process, no alternative bids were received within the court ordered bidding deadline of July 18, 2011. As such, an approval and vesting order was issued on August 2 and the transaction closed on September 1.
Now that the transaction has closed, Parlay and BDO will proceed with a liquidation proposal, which they expect will be filed tomorrow and which will be the subject of a creditor meeting later in the month. As part of the liquidation proposal, the company is reviewing opportunities for the public vehicle, which will either take the form of an outright sale, reverse merger or wind-up.
MProjects has advised the company that it will operate, invest in and grow Parlay's business and it will continue to operate under the business names Parlay Games and Parlay Entertainment. The transaction and the restructuring will be transparent to Parlay's existing business lines and its customers in all jurisdictions.
The board of directors also advises that Parlay is now in full compliance with all financial reporting requirements with Canadian securities regulators. As such, the company intends to apply for a partial revocation of the cease trade order previously issued, which currently impacts on the trading of its shares.
The UK Gambling Commission has withdrawn Bet Butler's online gaming licence.
The Swedish Gaming Board has awarded the Swedish Sports Alliance a licence to launch Klubblo; a new digital lottery platform that helps fund Swedish sport and which is now live.
The number of individual operators signed up to attend EiG in Berlin next month has doubled compared with the 2013 event.
Related articles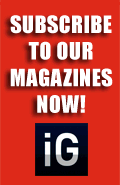 Our Publications
Our Partners