Paving the way for success
PartyGaming means business. Jenni Shuttleworth talks to director of corporate communications John Shepherd about the company's merger with bwin and about being poised for the opening of the US market
Why did PartyGaming decide to extend its partnership with Unica?
We have used Unica's marketing solutions since 2006 and they have helped us achieve tremendous success with our campaigns for our online gaming brands such as PartyPoker and PartyCasino. You need to support great, innovative brands and Unica does just that by ensuring that our marketing is relevant to our customers. It is imperative that you provide customers with what they want and not what you think they want.

Why is it so important for online gaming companies in particular to understand and know their customers?
The customer is king and it's fundamentally important that we understand their demands and tastes. If they prefer playing jackpot slots like Melon Madness, which has a jackpot that seeds at a minimum US$1.5m on PartyCasino, then there would be no point in sending them a marketing promotion for bingo. If you don't know your customer then they will just click away to a rival site. We focus a great deal on understanding our customers, especially with regard to their demands for more feature-rich content. This is why we have turned PartyPoker into the most advanced poker site on the web and PartyCasino offers an unrivalled choice of leading branded games and also innovative in-house slots like Circus, the first interactive game of its kind to be found at an online casino.

How does PartyGaming intend to better target customers?
Our competitors would love to know the answer to this question, so we'll keep our plans under wraps until we are ready to make them public. What you can be sure of is that we will continue to strive to improve our already first-class service to customers no matter whether they play on PartyPoker, PartyCasino or Foxy Bingo.

What is the best way to target online gaming customers?
Understand the customer and apply the right
marketing approach. It's as simple as that.
How does PartyGaming work to retain customers?
By ensuring that we have the best products on the market and ensuring that we satisfy our customers' demands and tastes.
In your opinion, what makes a successful online gaming website?
The proof, as they say, is in the pudding. PartyPoker, PartyCasino and our bingo sites have market-leading positions because they are technically advanced, feature-rich, trustworthy, easy to use and they offer great fun and entertainment. For us, these ingredients form the perfect mix.

What was behind the decision for PartyGaming and bwin to merge?
Online gaming is entering a fresh stage of development where operational and financial scale will be of even greater importance in what will be a more complex regulatory and competitive landscape. Already we are starting to see well-known government-owned and corporate brands extend their reach into the online gaming arena - the goalposts are shifting and the game is changing.
Our proposed merger with bwin is transformational and will create many opportunities from the combined entity, because we will be better positioned strategically and operationally to expand in - and also into - regulated markets and become the operator of choice across all products for players, corporate B2B customers as well as governments.
We will be the world's largest online gaming company with clear water between us and our next largest competitor; we will have leading positions across all of the key product verticals of poker, sports betting, casino and bingo; and we will be in a strong position to take our best of breed technology, products, experience and knowledge to push ahead at a fast rate.

What projects is PartyGaming currently working on?
PartyGaming is an industry within an industry: we are working on many things at the moment. Again, however, we don't want our competitors to see what we are up to until we are ready to go public with our plans. As players on PartyPoker know, it's important to keep your cards close to your chest until you are ready to make a move.
What plans for the future does PartyGaming have in the pipeline?
We are excited about the prospects for our casino business and exploiting bingo's potential in European markets remains high on our agenda.
We are preparing ourselves for the further liberalisation of the European marketplace. In addition to the positive developments in Italy and France, we are focused on Denmark. We are also keeping a close eye on Federal and State developments in the US where political and land-based industry momentum for a change in legislation appears to be increasing.
With three B2B deals secured already this year out of our previously stated target of five, we are continuing to push hard on the business development pedal.
In the next year, our plans include:
Hitting the ground running when we merge with bwin.
Strengthening our poker position in Italy and France and the soon to be opened market in Denmark.
Launching casino in Italy and Denmark.
International expansion of bingo.
Seizing B2B and B2G opportunities.
Pursuing further M&A.
Being positioned to enter the US market.

Generally, the intrepid entrepreneurialism and enthusiasm that drove online gaming companies over the past decade shows no sign of waning. I am sure we ain't seen northing yet!

When do you believe the online market in the US will open up and where do you envisage PartyGaming in this market when it does open?
The timing is difficult to predict but the momentum that is growing in the US from land-based players and law makers leads us to believe that something could happen
sooner as opposed to later. We don't underestimate the scale of the political challenge, but we are pursuing a number of exciting B2B opportunities in the US, which gives us good reason to think that regulation isn't that far away.
The recent progress made by the Financial Services Committee led by Barney Frank is yet another step in terms of positive momentum towards regulating online gaming in the US.
We are positioning ourselves to enter the US market as and when it is possible to do so. For instance, we acquired the World Poker Tour in 2009, which is truly significant for us in that it has given us an opportunity to leverage the WPT brand throughout the US and, in fact, throughout the world. And that's something we're very active on right now, and we have been encouraged with some of the increase in the player numbers that we're getting at the various tournaments that are being held in the US and internationally.
The WPT acquisition also gave us an excuse to talk to 12 land-based operators in the US. What this means is that we currently have deals with them to put on a land-based poker event; and we now have an excuse to talk to them about possibly leveraging an add-in to the online world.
The WPT acquisition has also given us a US office, which today has 40 employees. And we have readied our technical platform as part of our preparation to enter the US market when regulations permit.

Which markets do you think are showing the most potential for the online gaming industry at the moment?
As mentioned previously, the opening of more regulated markets in Europe and possibly the US as well helps to focus the mind. The French poker and sports betting markets have just opened and Italy is set to introduce cash game poker and casino before the end of the year.
These newly regulated and regulating markets, such as Denmark in early 2011, provide us with more opportunities to market our games.

How do you think we will see the online gaming industry change?
If history teaches us anything about the future it is that all industries have to face up to and embrace perpetual cycles of change, adaptation, innovation, consolidation and a tireless demand for greater quality from the consumer. Online gaming shares these traits in abundance.
The penetration of broadband around the world is especially shaping present and future consumer tastes for online gaming; simple slot machines will not suffice because customers want easy access and simple transaction management. Weak brands will fail and anything less than a complete focus on the customer will see them click away to sites that have their interests at heart and can serve up a menu that whets and satisfies their increasing appetites for fun and entertainment online.
The opening of new regulated markets will also provide plenty of opportunities for online gaming: that's why we have adopted a three-pronged commercial approach that involves business-to-government, business-to consumer and business-to-business.
Our proprietary technology, experience, knowledge and back-end operational capabilities can be put to work for us in these new markets and also for powerful consumer brands that are household names or for governments as they look to expand beyond offering more than a state lottery.

The so-called deep web is the internet that Google cannot see – and its depths are home to a flourishing trade in stolen and cloned credit cards, the use of which remains a significant source of i-gaming fraud. INTERGAMINGi dives in - and talks to the traffickers.
Shemer Katz, general manager of SafeCharge Israel, talks about the new payment regulation challenges faced by i-gaming merchants and the benefits of outsourcing PCI compliance and introducing smart scope reduction.
Laura Da Silva Gomes, founder of Silverfish CSR, offers i-gaming companies a perspective on the benefits of a proactive corporate social responsibility strategy – and the value it can offer.
Related articles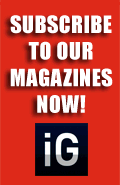 Our Publications
Our Partners