Star Play FEC opens in Kazakhstan
A new indoor FEC named Star Play has opened in the city of Astana, Kazakhstan. The 15,000sq.m location, which opened last week, is the biggest in the area and features a large range of attractions.
Attractions include a roller coaster, bumper cars, mini jet, mini dance party and several carousels. There is also a 5D cinema, video arcade games and redemption games.
The site operates under Intercard's latest wireless iReader Eclipse system and the games were supplied by Electrocoin, based in the UK.
Intercard's international sales manager, Alberto Borrero, said: "Kazakhstan has been a great market for us. We were the latest one to arrive here of all debit card companies and three years later all the large operators (Happylon, Funky Town and Star Play) are operating using Intercard. Fifteen systems in three years in Kazakhstan has been a great achievement."
CenterEdge Software, a provider of point of sale, online sales and reservations, and ticketing systems for entertainment facilities, is to integrate its Advantage Point of Sale System with the Sacoa PlayCard System.
TAB Austria has launched the latest update to its Fun4Four gaming table, Version 8.
The MEI SCR note acceptor has proven to be a success in trials in Germany, cash-handling equipment specialist CPI has claimed.
Related articles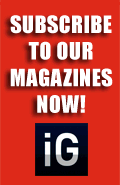 Our Publications
Our Partners