Star Play FEC opens in Kazakhstan
A new indoor FEC named Star Play has opened in the city of Astana, Kazakhstan. The 15,000sq.m location, which opened last week, is the biggest in the area and features a large range of attractions.
Attractions include a roller coaster, bumper cars, mini jet, mini dance party and several carousels. There is also a 5D cinema, video arcade games and redemption games.
The site operates under Intercard's latest wireless iReader Eclipse system and the games were supplied by Electrocoin, based in the UK.
Intercard's international sales manager, Alberto Borrero, said: "Kazakhstan has been a great market for us. We were the latest one to arrive here of all debit card companies and three years later all the large operators (Happylon, Funky Town and Star Play) are operating using Intercard. Fifteen systems in three years in Kazakhstan has been a great achievement."
Roger Newborough, co-founder and former managing director of the hugely successful Jolly Roger (Amusement Rides) Ltd passed away suddenly but peacefully on Thursday, November 13.
The giant Yas Mall opened on Yas Island in Abu Dhabi, United Arab Emirates, on Wednesday of this week, marking another advance in the development plans of major FEC operator Landmark Leisure.
At IAAPA this week, Intercard officially unveiled CronusPlay, a wristwatch-sized device that uses near field communication technology to manage time-based play at amusement locations.
Related articles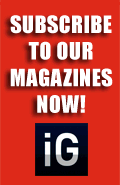 Our Publications
Our Partners