Star Play FEC opens in Kazakhstan
A new indoor FEC named Star Play has opened in the city of Astana, Kazakhstan. The 15,000sq.m location, which opened last week, is the biggest in the area and features a large range of attractions.
Attractions include a roller coaster, bumper cars, mini jet, mini dance party and several carousels. There is also a 5D cinema, video arcade games and redemption games.
The site operates under Intercard's latest wireless iReader Eclipse system and the games were supplied by Electrocoin, based in the UK.
Intercard's international sales manager, Alberto Borrero, said: "Kazakhstan has been a great market for us. We were the latest one to arrive here of all debit card companies and three years later all the large operators (Happylon, Funky Town and Star Play) are operating using Intercard. Fifteen systems in three years in Kazakhstan has been a great achievement."
Playsafe Monitoring, the systems company, has been acquired from Helix Leisure by Eurocoin, specialist in components and systems-based hardware in amusements and gaming.
For the second year in succession, the Timezone Surfers Paradise FEC in Queensland, Australia, has won the prestigious Tourism, Hospitality and Events award at the Gold Coast Business Awards ceremony.
Gulliver's theme parks has teamed up with the Irish Fairy Door Company to create a woodland fairy trail at the operator's park in Milton Keynes, UK.
Related articles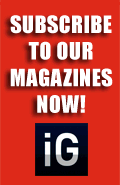 Our Publications
Our Partners