AC/DC - Stern Pinball
Stern Pinball has released three new versions of its AC/DC pinball machine.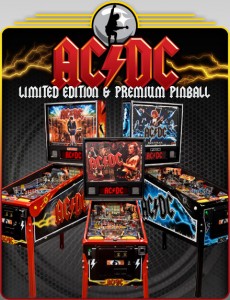 Two limited edition machines titled Back in Black and Let There Be Rock along with what Stern is calling an "electrifying premium model" designed for players seeking a unique piece at a competitive price are now available.
Featuring a new sound system, players will be able to choose from 12 classic AC/DC hits including Hells Bells, Thunderstruck and You Shook Me All Night Long while playing the game. The AC/DC machine is also engineered to allow players to stack and overlap three multi-ball modes.
"The fans and pinball enthusiasts wanted more AC/DC and we listened," said Gary Stern, founder, CEO and chairman of Stern Pinball. "Our design team worked tirelessly to create a pinball experience worthy of the AC/DC and Stern Pinball monikers."
In the UK, Playnation has helped Verdant Leisure, the holiday park operator, boost its family entertainment centre sales by more than 65 per cent.
One of the biggest stories at the DEAL show in Dubai last week was the forming of the new trade association, MENALAC, or Middle East and North Africa Leisure and Attraction Council.
Eurocoin directors Colin and Nick Veitch welcomed their new shareholder-partner Fernando Dumont to their London HQ this week, as the roll-out of their new jointly-owned Spanish business continues.
Related articles
Our Publications
Our Partners