Record installations for Embed
Debit card system provider Embed has announced a record number of locations have converted to its system over the last 16 months.
More than 20 locations have replaced existing systems with the Embed card system during this time, including Game Time, The Works, Massanutten Resort and Mohegan Sun Cyber Quest in the US, Landmark's Fun City in the Middle East and two Magic Planet locations in Egypt.
"The value the Embed card system has added to our business over the past year has been tremendous," said Christine Buhr, president of Shakers Fun Centre in Alberta, Canada. "With Embed, we have virtually removed daily game floor staff as the system runs itself."
The Embed Systems are used to manage the cashless operation of games as well as the extensive redemption counters in many locations. Installations are highlighted by Embed's Color-Glo HD line of wireless swipers, with guests purchasing branded play cards at any number of POS stations and self service kiosks located throughout the venues.
The Autumn Coin-op Show was an "ideal opportunity" to meet with new and existing customers, Innovative Technology's Paul Curley said.
Inspired Gaming is to supply its Virtual Games to land-based retail betting locations in the Philippines.
CEC Entertainment, the operator of the 577-strong chain of Chuck E. Cheese's stores, has acquired restaurant and entertainment business Peter Piper Pizza from ACON Investments.
Related articles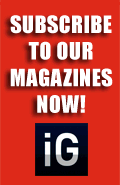 Our Publications
Our Partners