Om Nom plush hits US
Coast to Coast Entertainment, based in the US, has introduced a new plush item for redemption counters and instant win machines - Om Nom, the sweet-eating frog.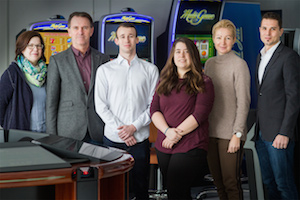 This 5ins plush character comes from the hit app game Cut the Rope, created by ZeptoLab. To play the game, the player cuts the rope and drops sweets into the mouth of Om Nom the frog. Om Nom eats the sweets and the player collects stars and levels up by feeding the Om Nom more sweets, adding more challenges along the way, as the player levels up into a more challenging game play.
A number of amusement machines offering prizes were seized last week by gaming authorities in the US state of Arizona.
Less than a year after Hurricane Sandy devastated the Jersey Shore, local arcade room owner Patti Hershey, Hershey's Ice Cream and PrimeTime Amusements have now joined forces to design and build a high-end family-orientated arcade and ice cream shop.
Spanish video bingo games specialist Zitro will launch a range of new games at a special showing in Mexico City on June 3 and 4, 2013.
Related articles
Our Publications
Our Partners