Crompton's Coaster in production
The first of the new Crompton's Coaster pusher, launched at the EAG International Expo in January, are now coming off the production line.
Crompton's Coaster is a two-player modular pusher that can be linked together to form two, four, six or eight player combinations to suit the available space.
"Operators can create a central island of pushers or arrange them along a wall," said Gordon Crompton, managing director of the pusher's manufacturer Game Concepts. "They are incredibly versatile and offer fantastic value for money as well as the Crompton's guarantee of quality. The deeper play-bed design allows space for higher net-worth items to be placed on it, to stimulate greater repeat play."
Crompton's Coaster is available to buy in the UK and Europe exclusively through Brent Sales. "We are really excited about this product which has already attracted a great deal of interest due to its quality build and versatility," said John Brennan, commercial director at Brent Sales/Bandai Namco.
The Italian government is understood to be planning new regulations that will reduce the amount gaming machines reward players in prizes.
Stern Pinball has entered into a partnership with Whizbang Pinball to build and distribute the Whoa Nellie! Big Juicy Melons pinball in the spring of 2015.
Comma 6a+, a new set of regulations that will require the replacement of thousands of gaming machines in Italy, has yet to come into effect, much to the frustration of the industry.
Related articles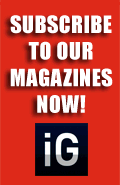 Our Publications
Our Partners