GTI Asia Taipei ready to open
The 19th edition of GTI Asia Taipei Expo is making final preparations for when it opens later this week at the Taipei World Trade Centre.
Taiwan-based manufacturers including IGS, Saint-Fun, InJoy Motion, Feiloli and Paokai are supporting the show, as are Japan-based amusement giants Sega and Namco Bandai Games, which will showcase its latest version of Gundam Senjou No Kizuna. IGS plans to demonstrate its R&D capabilities by showcasing its self-developed music games MuziBox and Percussion Master 3, card game Hero of Robots, car-racing game Speed Driver 4 and cross-platform app games Salon Boss and SR Mobile.
Companies from Hong Kong, Australia, US and China have also confirmed space, showcasing a complete range of amusement, edutainment and gaming machines as well as accessories.
Sun-Fun's 7th China Cup Street Basketball International Tournament will also take place during the show, with winners representing Taiwan in China to compete with opponents from the Great China region in the China Cup Final.
The video redemption title Fishbowl Frenzy from Team Play has been approved for operation in the US state of New Jersey.
The European Gaming and Amusement Federation, Euromat, says that it wants to put the street and arcade market for gaming front and centre of the discussion when it gathers at the Sofitel Legend The Grand Amsterdam on May 28, for a conference which it promises will address the issues that are keeping the gaming machine sector "awake at night."
Canadian immersive attractions specialist Triotech has installed its XD Dark Ride interactive theatre at Fort Fun Abenteuerland in Bestwig, Germany.
Related articles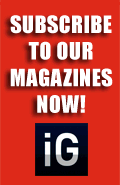 Our Publications
Our Partners