Marwyn acquires three Nobles bingo venues
Marwyn Gaming, in the UK, has acquired the assets of three bingo venues from the Nobles Group, increasing the number of bingo venues under MGL's ownership from six to nine.
Nobles operates bingo venues located in Redcar, Margate and Ilkeston. In addition to the three bingo venues, a non-operational FEC is included in Margate and an adult gaming centre in Ilkeston. The acquisition increases the number of bingo venues under MGL's ownership from six to nine.
Nick Harding, CEO of Marwyn, said: "We are particularly excited about Nobles' strong fit with our current operations, allowing us to take advantage of operational synergies. In addition to providing scale to our bingo division, the acquisition provides an opportunity to develop an FEC in an attractive location ahead of the summer and to take on an additional AGC. The transaction increases our current bingo estate by 50 per cent and our current FEC estate by 20 per cent."
Mark Watts, executive director of MMP, said: "The acquisition represents another step in the development of the consumer division, further expanding MGL's bingo operations and leveraging the operational platform in place throughout the MGL group."
The Autumn Coin-op Show was an "ideal opportunity" to meet with new and existing customers, Innovative Technology's Paul Curley said.
Inspired Gaming is to supply its Virtual Games to land-based retail betting locations in the Philippines.
CEC Entertainment, the operator of the 577-strong chain of Chuck E. Cheese's stores, has acquired restaurant and entertainment business Peter Piper Pizza from ACON Investments.
Related articles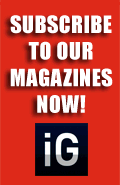 Our Publications
Our Partners