'Positive vibes' in Dubai
Jose Saus, export manager for Spain-based children's ride manufacturer Falgas, felt there were positive vibes at this year's DEAL show in Dubai last week.
The company has been exhibiting at the show since the first one 18 years ago and so the Middle East is now a traditional market for it. "Obviously, after such a long time we have become well known in the region, Saus told InterGame.
"The expansion that we have seen in this area stalled recently because of the problems it has been encountering, but I think it is now looking to start up again. Everyone here at this show has been more positive than last year. There is a good feeling."
Falgas was showing a new version of its large carousel ride for the first time and also gave a debut to Safari Tour, which features an embedded game and can also be used as a redemption game. "There are four models with the same system and they are all doing well," said Saus.
As well as the Middle East, Falgas' other hotspots at the moment are Russia and the former Soviet countries, South Africa, Mexico, Turkey, Morocco and, maybe surprisingly, Angola. "They recently discovered oil there and there has been an influx of ex-pats with cash to spend," said Saus.
Falgas has been in business for over 50 years and spends a lot of money investing in new product and trade shows, so Saus is becoming increasingly frustrated with the number of copies of Falgas rides appearing from China.
"We try to stay one step of the copiers by constantly introducing new products and not giving them the time to react. But still there are five models on our stand that have been copied and are here on the stands of the copiers. The trade associations talk about it but are not doing enough to stop it.
"It's a real problem; we can spend a lot of time and money on a new product and a few months later there's a cheap, low quality Chinese copy on the market. They are not good products but they are cheap and in markets like South America, where price is the main concern, they sell."
TAB Austria has launched a new four-player driving game, 5th Gear California, for its Fun4Four gaming table.
Greek gaming operator OPAP, which is introducing video lottery terminals to the country, reported a 15.8 per cent increase in revenues in the first quarter of the year.
The General Assembly of the European Gaming and Amusement Federation, Euromat, held today in Amsterdam, Netherlands, has elected Eduardo Antoja to the organisation's executive presidency position for the next two years.
Related articles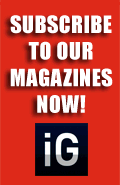 Our Publications
Our Partners