RAAPA 2012 in photos
Following last week's successful RAAPA Expo, which was held in Msocow, Russia, we have now uploaded all the photos taken at the show to our website.
Click here to view photos from the exhibition. We have also uploaded photos of BB&B's social event held in Moscow during the event to our Facebook page - click here to view.
The grand opening of the world's first Pac-Man Zone arcade in Abu Dhabi is taking place today.
Fair City Amusements, a leading Scottish operator, has placed an initial 20 VenueHub jukeboxes from Sound Leisure and Soundnet.
Ireland's Paddy Power enjoyed strong profit growth in its retail business during a six-month period that saw a record number of new betting shop openings.
Related articles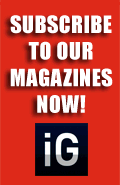 Our Publications
Our Partners