RAAPA 2012 in photos
Following last week's successful RAAPA Expo, which was held in Msocow, Russia, we have now uploaded all the photos taken at the show to our website.
Click here to view photos from the exhibition. We have also uploaded photos of BB&B's social event held in Moscow during the event to our Facebook page - click here to view.
The Autumn Coin-op Show was an "ideal opportunity" to meet with new and existing customers, Innovative Technology's Paul Curley said.
Inspired Gaming is to supply its Virtual Games to land-based retail betting locations in the Philippines.
CEC Entertainment, the operator of the 577-strong chain of Chuck E. Cheese's stores, has acquired restaurant and entertainment business Peter Piper Pizza from ACON Investments.
Related articles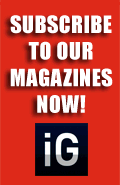 Our Publications
Our Partners