RAAPA 2012 in photos
Following last week's successful RAAPA Expo, which was held in Msocow, Russia, we have now uploaded all the photos taken at the show to our website.
Click here to view photos from the exhibition. We have also uploaded photos of BB&B's social event held in Moscow during the event to our Facebook page - click here to view.
Sound Leisure has received approval to bring its classic jukebox range to North America.
IAAPA is a huge event, comprising more than 1,000 exhibiting companies from across the attractions industry.
TAB Austria has been presented with a highly-coveted export award by the Austrian Federal Economic Chamber.
Related articles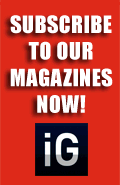 Our Publications
Our Partners