RAAPA 2012 in photos
Following last week's successful RAAPA Expo, which was held in Msocow, Russia, we have now uploaded all the photos taken at the show to our website.
Click here to view photos from the exhibition. We have also uploaded photos of BB&B's social event held in Moscow during the event to our Facebook page - click here to view.
Tuesday saw the 36th annual Irish Gaming Show in Dublin open its doors and once again this year the event has attracted operators, suppliers and a healthy number of international manufacturers.
Austria's Attraktion! is making significant inroads into the international leisure market with its WeRobots experience.
February's IAAPI trade show in India saw leading Dubai-based amusement company Warehouse of Games make its debut at the event.
Related articles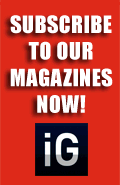 Our Publications
Our Partners