RAAPA 2012 in photos
Following last week's successful RAAPA Expo, which was held in Msocow, Russia, we have now uploaded all the photos taken at the show to our website.
Click here to view photos from the exhibition. We have also uploaded photos of BB&B's social event held in Moscow during the event to our Facebook page - click here to view.
Playsafe Monitoring, the systems company, has been acquired from Helix Leisure by Eurocoin, specialist in components and systems-based hardware in amusements and gaming.
For the second year in succession, the Timezone Surfers Paradise FEC in Queensland, Australia, has won the prestigious Tourism, Hospitality and Events award at the Gold Coast Business Awards ceremony.
Gulliver's theme parks has teamed up with the Irish Fairy Door Company to create a woodland fairy trail at the operator's park in Milton Keynes, UK.
Related articles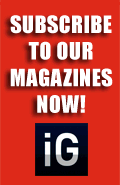 Our Publications
Our Partners