RAAPA 2012 in photos
Following last week's successful RAAPA Expo, which was held in Msocow, Russia, we have now uploaded all the photos taken at the show to our website.
Click here to view photos from the exhibition. We have also uploaded photos of BB&B's social event held in Moscow during the event to our Facebook page - click here to view.
Soundnet has released its charts revealing the most-played artists, tracks and genres on digital jukeboxes this year.
The Czech Republic could be about to increase taxes on betting companies, potentially doubling the rate currently applied to the sector.
Dave and Buster's delivered an "exceptionally strong performance" during a record-setting third quarter, CEO Steve King said.
Related articles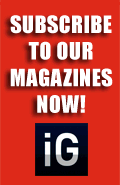 Our Publications
Our Partners