RAAPA 2012 in photos
Following last week's successful RAAPA Expo, which was held in Msocow, Russia, we have now uploaded all the photos taken at the show to our website.
Click here to view photos from the exhibition. We have also uploaded photos of BB&B's social event held in Moscow during the event to our Facebook page - click here to view.
Inspired will be showcasing its newest VLT games and its Machete VLT cabinet at Fadja in Colombia on April 8-9.
The Belgian Gaming Commission is seeking to change the country's regulations to fall more into line with other countries that offer limited payout gambling in the street markets.
The 2015 FER-Interazar was held in Madrid, Spain, this week and attracted many of the industry's leading AWP manufacturers.
Related articles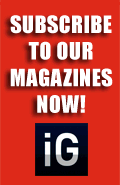 Our Publications
Our Partners