RAAPA 2012 in photos
Following last week's successful RAAPA Expo, which was held in Msocow, Russia, we have now uploaded all the photos taken at the show to our website.
Click here to view photos from the exhibition. We have also uploaded photos of BB&B's social event held in Moscow during the event to our Facebook page - click here to view.
Cash management solutions company Intercard has grown its presence in the Asia-Pacific region with two new supply deals.
P and C Micros, trading as Zone Laser Tag Systems, has had its Australian innovation patent on an "entitled achievement and reward system for indoor laser tag" revoked following a Laserforce request for examination by the Australian Patent Office, the latter has claimed.
Oasis Retail Services, based near Belfast, Northern Ireland, is to update its estate with Sound Leisure's VenueHub Gen 2 digital jukeboxes.
Related articles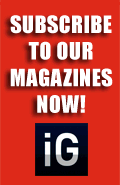 Our Publications
Our Partners