RAAPA 2012 in photos
Following last week's successful RAAPA Expo, which was held in Msocow, Russia, we have now uploaded all the photos taken at the show to our website.
Click here to view photos from the exhibition. We have also uploaded photos of BB&B's social event held in Moscow during the event to our Facebook page - click here to view.
Triotech announced plans to develop a new interactive dark ride attraction for California's Knott's Berry Farm, part of the Cedar Fair Entertainment company, at the IAAPA Attractions Expo in Orlando this week.
The Amusement and Music Owners Association of New York will honour Allen Weisberg, the founder of Apple Industries - the company behind the Face Place brand of photo booths - at its 2015 Man of the Year dinner.
In Argentina, as part of SAGSE Buenos Aires last week, Zitro has presented the biggest innovation in its history, which is "revolutionising the world video bingo market."
Related articles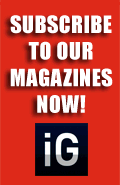 Our Publications
Our Partners