RAAPA 2012 in photos
Following last week's successful RAAPA Expo, which was held in Msocow, Russia, we have now uploaded all the photos taken at the show to our website.
Click here to view photos from the exhibition. We have also uploaded photos of BB&B's social event held in Moscow during the event to our Facebook page - click here to view.
Stern Pinball has entered into a partnership with Whizbang Pinball to build and distribute the Whoa Nellie! Big Juicy Melons pinball in the spring of 2015.
Comma 6a+, a new set of regulations that will require the replacement of thousands of gaming machines in Italy, has yet to come into effect, much to the frustration of the industry.
ENADA Rome closes later today, having been busier than many anticipated.
Related articles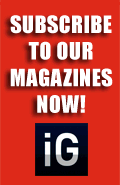 Our Publications
Our Partners