RAAPA 2012 in photos
Following last week's successful RAAPA Expo, which was held in Msocow, Russia, we have now uploaded all the photos taken at the show to our website.
Click here to view photos from the exhibition. We have also uploaded photos of BB&B's social event held in Moscow during the event to our Facebook page - click here to view.
The video redemption title Fishbowl Frenzy from Team Play has been approved for operation in the US state of New Jersey.
The European Gaming and Amusement Federation, Euromat, says that it wants to put the street and arcade market for gaming front and centre of the discussion when it gathers at the Sofitel Legend The Grand Amsterdam on May 28, for a conference which it promises will address the issues that are keeping the gaming machine sector "awake at night."
Canadian immersive attractions specialist Triotech has installed its XD Dark Ride interactive theatre at Fort Fun Abenteuerland in Bestwig, Germany.
Related articles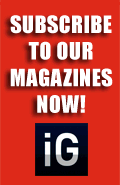 Our Publications
Our Partners