RAAPA 2012 in photos
Following last week's successful RAAPA Expo, which was held in Msocow, Russia, we have now uploaded all the photos taken at the show to our website.
Click here to view photos from the exhibition. We have also uploaded photos of BB&B's social event held in Moscow during the event to our Facebook page - click here to view.
UK adult gaming centre operator Talarius made a positive contribution to parent company Tatts Group's FY14 results for the first time since its acquisition.
Australia's Darwin International Airport is to house a new family entertainment centre – the first Australian location for Ardent Leisure, the name behind the chain of Main Event FECs in the US.
UK-based cash handling specialist Innovative Technology has updated its equipment to enable operators to process the new €10 note, which enters circulation next month.
Related articles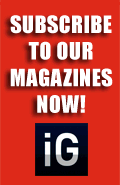 Our Publications
Our Partners