Robin Mitchell Jnr dies
Robin Guthrie Mitchell, who chaired the family business but had also founded a company of his own, has died aged 49.
After gaining a degree in economics at Stirling University he joined his father's business, RG Mitchell Ltd, on Heath Road, Skegness, which manufactured and operated coin-operated children's rides in the UK and worldwide, reports This is Lincolnshire.
Robin wanted to prove he could be independently successful so left Skegness for a short period to set up Primary Leisure. Once this company took off he again rejoined the family firm and rose to become chairman of the business.
During this period, Robin married and had two children and to carry on the family tradition named his first son Robin and his second Pearce. Having divorced several years ago, he had recently found happiness with Tina.
First published on Coin-Op Community
Amusement equipment company UNIS is to exhibit at the 12th ChinaJoy show in Shanghai from July 31 to August 3.
A ground-breaking ceremony was held earlier this month in Gangkou Town, Zhongshan City, starting work on what is to become a hub of the Chinese game and amusement industry.
According to the Spanish publication Azar, one of the most notable personalities from the Spanish coin machine industry, Juan Padrón, died on Sunday, aged 81.
Related articles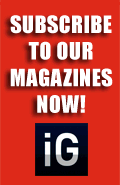 Our Publications
Our Partners