Robin Mitchell Jnr dies
Robin Guthrie Mitchell, who chaired the family business but had also founded a company of his own, has died aged 49.
After gaining a degree in economics at Stirling University he joined his father's business, RG Mitchell Ltd, on Heath Road, Skegness, which manufactured and operated coin-operated children's rides in the UK and worldwide, reports This is Lincolnshire.
Robin wanted to prove he could be independently successful so left Skegness for a short period to set up Primary Leisure. Once this company took off he again rejoined the family firm and rose to become chairman of the business.
During this period, Robin married and had two children and to carry on the family tradition named his first son Robin and his second Pearce. Having divorced several years ago, he had recently found happiness with Tina.
First published on Coin-Op Community
CenterEdge Software, a provider of point of sale, online sales and reservations, and ticketing systems for entertainment facilities, is to integrate its Advantage Point of Sale System with the Sacoa PlayCard System.
TAB Austria has launched the latest update to its Fun4Four gaming table, Version 8.
The MEI SCR note acceptor has proven to be a success in trials in Germany, cash-handling equipment specialist CPI has claimed.
Related articles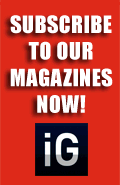 Our Publications
Our Partners