Soundnet launches low-cost music and AV packages
UK-based digital jukebox music supplier Soundnet has introduced a new range of entry level prices for popular packages for Sound Leisure's VHub and SoundWave digital jukeboxes.
For £27.50 per month, the new V-Hub deals for audio and music video packages are available for one year following installation and the SoundWave 20,000 Audio Track Service is offered for two years. As well as offering a budget friendly music and AV service, the new packages also offer peace of mind from legal issues for customers, as all royalty fees are taken care of. The 20,000 service combines all the most played tracks from over 15,000 jukeboxes, the most popular albums of the last five years and classic tracks from various decades and genres and is compiled from play data to provide sites with essential music at a low price. The VHub AV package includes 30,000 audio tracks and 7,000 music videos. Soundnet spokesperson Toby Hoyte said: "A jukebox is big investment and you need to ensure you get the right music partner. This new price level shows our determination to respond to customer needs in terms of quality and affordability."
The Scottish parliament is to be given the power to control fixed-odds betting terminals (FOBTs) if the recommendation of the Smith Commission is approved.
UK-based gaming company Inspired has launched a new brand identity ahead of the ICE Totally Gaming show next month.
Tom Pennington-Brookfield has joined cash-handling solutions firm Innovative Technology as financial director, replacing Alun Evans who is due to retire from the business.
Related articles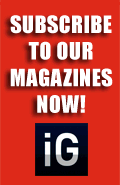 Our Publications
Our Partners