Soundnet launches low-cost music and AV packages
UK-based digital jukebox music supplier Soundnet has introduced a new range of entry level prices for popular packages for Sound Leisure's VHub and SoundWave digital jukeboxes.
For £27.50 per month, the new V-Hub deals for audio and music video packages are available for one year following installation and the SoundWave 20,000 Audio Track Service is offered for two years. As well as offering a budget friendly music and AV service, the new packages also offer peace of mind from legal issues for customers, as all royalty fees are taken care of. The 20,000 service combines all the most played tracks from over 15,000 jukeboxes, the most popular albums of the last five years and classic tracks from various decades and genres and is compiled from play data to provide sites with essential music at a low price. The VHub AV package includes 30,000 audio tracks and 7,000 music videos. Soundnet spokesperson Toby Hoyte said: "A jukebox is big investment and you need to ensure you get the right music partner. This new price level shows our determination to respond to customer needs in terms of quality and affordability."
Spanish vending machine and coin mechanisms group Azkoyen reported a new profit up substantially from the year before.
Those familiar with the personalities of older times in the international industry may remember George Kuper. He sadly died suddenly on January 27, aged 73.
The 36th annual Irish Gaming, Casino and Amusement Show gets under way in Dublin today.
Related articles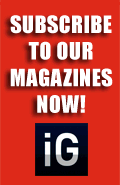 Our Publications
Our Partners