Eurocoin in Thomas Automation deal
Eurocoin has acquired the commercial and trading assets of Thomas Automation in the UK.
The deal included all of the intellectual property, designs, tooling, trademarks, brands, finished equipment, spares and workshop equipment belonging to the manufacturer of change machines, automated tickets and stamp dispensers.
The newly formed business will trade as Thomas Automatics and will take immediate control of the service and support needs of installed Thomas machines worldwide, assisted by the appointment of Mike Clokie's E-Service.
Nick Veitch, managing director of Eurocoin, said: "We have admired the Thomas change machine business and its excellent product range for decades and were shocked and disappointed to hear of its recent failure. Through new direct investment in production and development, plus the sales opportunities that will arise from being linked to Eurocoin's extensive international network of subsidiaries and resellers, we intend to restore this proud brand.
"We aim to develop the Thomas business to play an ever larger role in the design, manufacture and sales of change machines and specialist cash-handling products for the gaming, vending, amusement and commercial sectors."
In the immediate days ahead, Thomas Automatics will aim to satisfy all outstanding needs and requirements that may have been delayed due to the recent cessation of trading. Thereafter, the team will be working to prepare display models for the forthcoming January 2011 ICE and EAG shows. Thomas equipment will be exhibited at both shows.
The organiser of this month's DEAL show in Dubai claims that exhibitors at the event signed contracts worth more than AED1.2bn ($327m).
Main Event Entertainment, the US-based FEC operator, has opened its 20th location – this time in Tulsa, Oklahoma.
The video redemption title Fishbowl Frenzy from Team Play has been approved for operation in the US state of New Jersey.
Related articles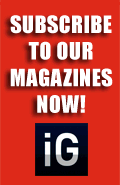 Our Publications
Our Partners