Ferrari theme park set to open
Ferrari World, the first-ever theme park dedicated to the brand Ferrari, is due to open in Abu Dhabi this year.
Sited on Yas Island next door to Yas Marina circuit - home to the Formula 1 Abu Dhabi Grand Prix - it is hoped the close proximity to the racing ground will be another draw for visitors.
It is set to be the largest indoor theme park in the world once complete and the new attraction will be housed under a gigantic red roof inspired by the body of the Ferrari GT and bearing the iconic Ferrari logo.
Inside the park will be one of the world\'s fastet roller coasters - simulating the feeling of riding in a Formula 1 car - taking customers 62m into the air, out of the top of the roof, before plunging straight back down again.
There will also be a number of high-tech racing car simulators used by the Ferrari racing team, plus a flume ride taking customers on a journey through the engine of a Ferrari 599 engine.
There will also be a driving school and non-thrill rides and amusements suitable for children of all ages.
Over two years since closing its first Las Vegas location, GameWorks has opened a new family entertainment centre in Town Square, Las Vegas. The grand opening was held in August.
The Italian government is understood to be planning to go ahead with an increase in the PREU tax on wins relating to gaming machines.
The Beachouse family entertainment centre near Adelaide, Australia, has become the latest location to choose Semnox's Parafait cashless debit card system.
Related articles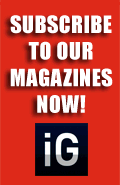 Our Publications
Our Partners