Ferrari theme park set to open
Ferrari World, the first-ever theme park dedicated to the brand Ferrari, is due to open in Abu Dhabi this year.
Sited on Yas Island next door to Yas Marina circuit - home to the Formula 1 Abu Dhabi Grand Prix - it is hoped the close proximity to the racing ground will be another draw for visitors.
It is set to be the largest indoor theme park in the world once complete and the new attraction will be housed under a gigantic red roof inspired by the body of the Ferrari GT and bearing the iconic Ferrari logo.
Inside the park will be one of the world\'s fastet roller coasters - simulating the feeling of riding in a Formula 1 car - taking customers 62m into the air, out of the top of the roof, before plunging straight back down again.
There will also be a number of high-tech racing car simulators used by the Ferrari racing team, plus a flume ride taking customers on a journey through the engine of a Ferrari 599 engine.
There will also be a driving school and non-thrill rides and amusements suitable for children of all ages.
InterGame is saddened to learn that Gerry Robinson, the founder member of the Amusement and Leisure Equipment Suppliers trade body and the organiser of an array of industry trade shows, passed away on August 31 at the age of 75.
The grand opening of the world's first Pac-Man Zone arcade in Abu Dhabi is taking place today.
Fair City Amusements, a leading Scottish operator, has placed an initial 20 VenueHub jukeboxes from Sound Leisure and Soundnet.
Related articles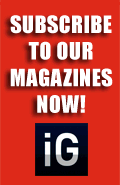 Our Publications
Our Partners