Moscow show disappoints
The World of Games show in Moscow last week graphically illustrated the decline in the Russian games and gaming markets since President Putin announced that from 2009 all gambling would be devolved into four special geographic zones.
From 155 exhibitors last year, the show had only around 35, nearly all aiming at the casino market. Largest exhibitors were Fair Play, Kare Technology, Unicum Gaming and the largest 'amusement' machine distributor present was IgroService Corporation of the Ukraine.
The event's status as an annual show is now under scrutiny.
The Beachouse family entertainment centre near Adelaide, Australia, has become the latest location to choose Semnox's Parafait cashless debit card system.
Bowling specialist Switch has welcomed a new distributor based in Taiwan, Palmer Taiwan.
The Leisure Industry Week show held at the NEC in Birmingham, UK, this month left visitors and exhibitors somewhat underwhelmed.
Related articles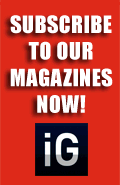 Our Publications
Our Partners