Moscow show disappoints
The World of Games show in Moscow last week graphically illustrated the decline in the Russian games and gaming markets since President Putin announced that from 2009 all gambling would be devolved into four special geographic zones.
From 155 exhibitors last year, the show had only around 35, nearly all aiming at the casino market. Largest exhibitors were Fair Play, Kare Technology, Unicum Gaming and the largest 'amusement' machine distributor present was IgroService Corporation of the Ukraine.
The event's status as an annual show is now under scrutiny.
Major German AWP manufacturer Bally Wulff Games and Entertainment is saying farewell to its vice-president of international sales, Reinhard Schloh after five years.
The Germany-based Gauselmann Group was on Friday rumoured to have completed the purchase of another leading UK company, picking up BetCom, a highly successful software development company.
The small, new UK games exhibition, Autumn Coin-op, which is set for October 15-16 at Chelsea FC's Stamford Bridge stadium in London, is a 25-stand sell-out, says promoter Karen Cooke of Swan Events.
Related articles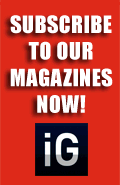 Our Publications
Our Partners