Moscow show disappoints
The World of Games show in Moscow last week graphically illustrated the decline in the Russian games and gaming markets since President Putin announced that from 2009 all gambling would be devolved into four special geographic zones.
From 155 exhibitors last year, the show had only around 35, nearly all aiming at the casino market. Largest exhibitors were Fair Play, Kare Technology, Unicum Gaming and the largest 'amusement' machine distributor present was IgroService Corporation of the Ukraine.
The event's status as an annual show is now under scrutiny.
UK gambling operator Gala Coral Group has reported a sharp increase in profits in the financial year to September 2014.
Roger Newborough, co-founder and former managing director of the hugely successful Jolly Roger (Amusement Rides) Ltd passed away suddenly but peacefully on Thursday, November 13.
The giant Yas Mall opened on Yas Island in Abu Dhabi, United Arab Emirates, on Wednesday of this week, marking another advance in the development plans of major FEC operator Landmark Leisure.
Related articles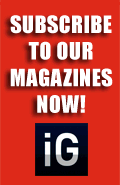 Our Publications
Our Partners