Moscow show disappoints
The World of Games show in Moscow last week graphically illustrated the decline in the Russian games and gaming markets since President Putin announced that from 2009 all gambling would be devolved into four special geographic zones.
From 155 exhibitors last year, the show had only around 35, nearly all aiming at the casino market. Largest exhibitors were Fair Play, Kare Technology, Unicum Gaming and the largest 'amusement' machine distributor present was IgroService Corporation of the Ukraine.
The event's status as an annual show is now under scrutiny.
CenterEdge Software, a provider of point of sale, online sales and reservations, and ticketing systems for entertainment facilities, is to integrate its Advantage Point of Sale System with the Sacoa PlayCard System.
TAB Austria has launched the latest update to its Fun4Four gaming table, Version 8.
The MEI SCR note acceptor has proven to be a success in trials in Germany, cash-handling equipment specialist CPI has claimed.
Related articles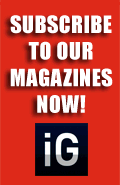 Our Publications
Our Partners