Reed selects InterGame as publisher of choice
Reed Exhibitions Deutschland has appointed InterGame as its official international publication for the German coin machine trade show, IMA, which next year will be held at Düsseldorf from January 15-18.
The show was re-introduced this year after a one-year gap caused by the introduction of new gaming machine legislation in January, 2006.
The 2007 event was an enormous success and extra space had to be organised through a temporary structure next to the show hall at the Düsseldorf Messe.
"The liaison between IMA and InterGame," said show manager Petra Lassahn, "recognises InterGame's position as the premier global publication for the games and gaming industry.
"We are putting into effect a series of mutually beneficial projects, which can only be undertaken by a close relationship between a trade show and a leading publication."
For InterGame, David Snook said: "Germany is set to become Europe's major market for the limited gaming machine business and IMA will reflect that. The show can only grow from here to once more holding a prominent place in Europe's 'must go' annual events."
P and C Micros, trading as Zone Laser Tag Systems, has had its Australian innovation patent on an "entitled achievement and reward system for indoor laser tag" revoked following a Laserforce request for examination by the Australian Patent Office, the latter has claimed.
Oasis Retail Services, based near Belfast, Northern Ireland, is to update its estate with Sound Leisure's VenueHub Gen 2 digital jukeboxes.
US-based entertainment and amusement location operator Dave and Buster's is planning to go public after proposing an initial public offering of its common stock.
Related articles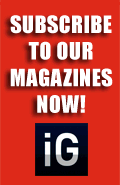 Our Publications
Our Partners