Reed selects InterGame as publisher of choice
Reed Exhibitions Deutschland has appointed InterGame as its official international publication for the German coin machine trade show, IMA, which next year will be held at Düsseldorf from January 15-18.
The show was re-introduced this year after a one-year gap caused by the introduction of new gaming machine legislation in January, 2006.
The 2007 event was an enormous success and extra space had to be organised through a temporary structure next to the show hall at the Düsseldorf Messe.
"The liaison between IMA and InterGame," said show manager Petra Lassahn, "recognises InterGame's position as the premier global publication for the games and gaming industry.
"We are putting into effect a series of mutually beneficial projects, which can only be undertaken by a close relationship between a trade show and a leading publication."
For InterGame, David Snook said: "Germany is set to become Europe's major market for the limited gaming machine business and IMA will reflect that. The show can only grow from here to once more holding a prominent place in Europe's 'must go' annual events."
The video redemption title Fishbowl Frenzy from Team Play has been approved for operation in the US state of New Jersey.
The European Gaming and Amusement Federation, Euromat, says that it wants to put the street and arcade market for gaming front and centre of the discussion when it gathers at the Sofitel Legend The Grand Amsterdam on May 28, for a conference which it promises will address the issues that are keeping the gaming machine sector "awake at night."
Canadian immersive attractions specialist Triotech has installed its XD Dark Ride interactive theatre at Fort Fun Abenteuerland in Bestwig, Germany.
Related articles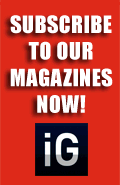 Our Publications
Our Partners