Reed selects InterGame as publisher of choice
Reed Exhibitions Deutschland has appointed InterGame as its official international publication for the German coin machine trade show, IMA, which next year will be held at Düsseldorf from January 15-18.
The show was re-introduced this year after a one-year gap caused by the introduction of new gaming machine legislation in January, 2006.
The 2007 event was an enormous success and extra space had to be organised through a temporary structure next to the show hall at the Düsseldorf Messe.
"The liaison between IMA and InterGame," said show manager Petra Lassahn, "recognises InterGame's position as the premier global publication for the games and gaming industry.
"We are putting into effect a series of mutually beneficial projects, which can only be undertaken by a close relationship between a trade show and a leading publication."
For InterGame, David Snook said: "Germany is set to become Europe's major market for the limited gaming machine business and IMA will reflect that. The show can only grow from here to once more holding a prominent place in Europe's 'must go' annual events."
Coastal Amusements, the US equipment supplier, has added to its sales team with the appointment of Patrick Mills.
The Boost Bingo campaign orchestrated by the UK's Bingo Association, which secured a reduction in bingo duty from 20 per cent to 10 per cent in this year's Budget, was named the winner of the Best Public Affairs Campaign category at the PR Week Awards 2014.
Coin Tech Debit Card System will be present at the IAAPA show in Orlando, Florida, next month, where the company will be showcasing its latest innovations in technology and solutions for the amusement industry.
Related articles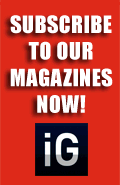 Our Publications
Our Partners