Smoking ban 'to affect bingo numbers' - report
According to a new survey by St Minver, operator of the world's biggest bingo network, one in three bingo players will reduce their visits to clubs once the smoking ban is introduced in England later this year.
There are currently an estimated three million regular bingo players with a growing trend towards playing online.
It is thought that online bingo players who currently smoke will stop playing in the clubs, with 33 per cent claiming they will play less often.
Only 14 per cent of these smokers said they are willing to quit so they can continue playing in the clubs.
Leigh Nissim, managing director of St Minver said: "It appears that land-based bingo clubs are likely to suffer in wake of the smoking ban. Not only do players disagree with the ban, but they're less likely to visit clubs as a result."
Roger Newborough, co-founder and former managing director of the hugely successful Jolly Roger (Amusement Rides) Ltd passed away suddenly but peacefully on Thursday, November 13.
The giant Yas Mall opened on Yas Island in Abu Dhabi, United Arab Emirates, on Wednesday of this week, marking another advance in the development plans of major FEC operator Landmark Leisure.
At IAAPA this week, Intercard officially unveiled CronusPlay, a wristwatch-sized device that uses near field communication technology to manage time-based play at amusement locations.
Related articles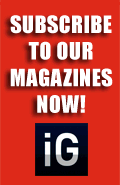 Our Publications
Our Partners