Smoking ban 'to affect bingo numbers' - report
According to a new survey by St Minver, operator of the world's biggest bingo network, one in three bingo players will reduce their visits to clubs once the smoking ban is introduced in England later this year.
There are currently an estimated three million regular bingo players with a growing trend towards playing online.
It is thought that online bingo players who currently smoke will stop playing in the clubs, with 33 per cent claiming they will play less often.
Only 14 per cent of these smokers said they are willing to quit so they can continue playing in the clubs.
Leigh Nissim, managing director of St Minver said: "It appears that land-based bingo clubs are likely to suffer in wake of the smoking ban. Not only do players disagree with the ban, but they're less likely to visit clubs as a result."
Revenue from video lottery terminals in the US state of Illinois increased 119 per cent in 2014.
Team Play has completed shipping's its Fishbowl Frenzy video redemption game to every Dave and Buster's location, making it the first chain of entertainment destinations to receive the game.
New multimedia systems from Signs4U have been installed in no fewer than 14 of the major Fair Play Casinos across the Netherlands.
Related articles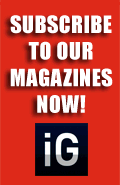 Our Publications
Our Partners