Smoking ban 'to affect bingo numbers' - report
According to a new survey by St Minver, operator of the world's biggest bingo network, one in three bingo players will reduce their visits to clubs once the smoking ban is introduced in England later this year.
There are currently an estimated three million regular bingo players with a growing trend towards playing online.
It is thought that online bingo players who currently smoke will stop playing in the clubs, with 33 per cent claiming they will play less often.
Only 14 per cent of these smokers said they are willing to quit so they can continue playing in the clubs.
Leigh Nissim, managing director of St Minver said: "It appears that land-based bingo clubs are likely to suffer in wake of the smoking ban. Not only do players disagree with the ban, but they're less likely to visit clubs as a result."
Over two years since closing its first Las Vegas location, GameWorks has opened a new family entertainment centre in Town Square, Las Vegas. The grand opening was held in August.
The Italian government is understood to be planning to go ahead with an increase in the PREU tax on wins relating to gaming machines.
The Beachouse family entertainment centre near Adelaide, Australia, has become the latest location to choose Semnox's Parafait cashless debit card system.
Related articles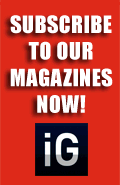 Our Publications
Our Partners