Report points to burgeoning Polish AWP market
By the end of the third quarter of 2006, Poland had 20,276 AWP machines in operation, according to official statistics.
The income from the machines totalled PLN472m (US$157m), double the volume of the previous year.
Despite the growing success of the sector, however, there are worries. The country's department of home affairs - the Administration and Inner Ministry - is studying a police report which suggests that the machines, usually located in bars and bus and train depots, are used for money laundering.
This assertion is based upon the fact that operators do not have to present detailed records of the machines' performance which makes it impossible to check the source of money played.
Roger Newborough, co-founder and former managing director of the hugely successful Jolly Roger (Amusement Rides) Ltd passed away suddenly but peacefully on Thursday, November 13.
The giant Yas Mall opened on Yas Island in Abu Dhabi, United Arab Emirates, on Wednesday of this week, marking another advance in the development plans of major FEC operator Landmark Leisure.
At IAAPA this week, Intercard officially unveiled CronusPlay, a wristwatch-sized device that uses near field communication technology to manage time-based play at amusement locations.
Related articles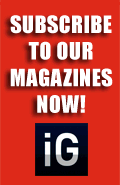 Our Publications
Our Partners