Blanche takes up MDM appointment
Industry veteran Mick Blanche has joined MDM Leisure. Blanche, made redundant in cutbacks at Crown Leisure recently, will open up the north of England and Scotland for the Welsh company.
MDM, based in Cardiff, already has a depot serving London and the south of England. Blanche said: "I will be joining the MDM team on their stand at the London show where we will have several new and rebuilt products which are synonymous with MDM."
Mark Lewis, a director at MDM, said: "Mick's experience will enable us to continue to grow our business. He will set up a department in the North West."
The video redemption title Fishbowl Frenzy from Team Play has been approved for operation in the US state of New Jersey.
The European Gaming and Amusement Federation, Euromat, says that it wants to put the street and arcade market for gaming front and centre of the discussion when it gathers at the Sofitel Legend The Grand Amsterdam on May 28, for a conference which it promises will address the issues that are keeping the gaming machine sector "awake at night."
Canadian immersive attractions specialist Triotech has installed its XD Dark Ride interactive theatre at Fort Fun Abenteuerland in Bestwig, Germany.
Related articles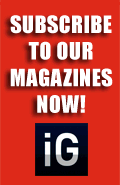 Our Publications
Our Partners