Blanche takes up MDM appointment
Industry veteran Mick Blanche has joined MDM Leisure. Blanche, made redundant in cutbacks at Crown Leisure recently, will open up the north of England and Scotland for the Welsh company.
MDM, based in Cardiff, already has a depot serving London and the south of England. Blanche said: "I will be joining the MDM team on their stand at the London show where we will have several new and rebuilt products which are synonymous with MDM."
Mark Lewis, a director at MDM, said: "Mick's experience will enable us to continue to grow our business. He will set up a department in the North West."
The UK Gambling Commission has fined National Lottery operator Camelot UK Lotteries £100,000 after it found it to be in breach of its licence.
LAI is to present its Piñata redemption game at the American Vending Sales Product Kick-off in Illinois, US, this week.
The organisers of London's EAG International 2015 have confirmed that for the first time it will be twinned with a new Visitor Attraction Expo.
Related articles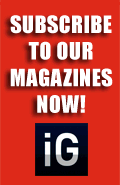 Our Publications
Our Partners