Blanche takes up MDM appointment
Industry veteran Mick Blanche has joined MDM Leisure. Blanche, made redundant in cutbacks at Crown Leisure recently, will open up the north of England and Scotland for the Welsh company.
MDM, based in Cardiff, already has a depot serving London and the south of England. Blanche said: "I will be joining the MDM team on their stand at the London show where we will have several new and rebuilt products which are synonymous with MDM."
Mark Lewis, a director at MDM, said: "Mick's experience will enable us to continue to grow our business. He will set up a department in the North West."
The best-known children's adult-play attraction, Kidzania, opened its 19th location on Thursday of last week.
Britain had 1,522 adult gaming centres (AGCs) as at March 31, 2015, compared with 2,103 at the same stage of 2011, reports the Gambling Commission in its annual report.
Switch Bowling has introduced several new features for its scoring system.
Related articles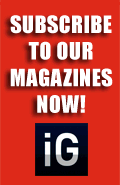 Our Publications
Our Partners