Blanche takes up MDM appointment
Industry veteran Mick Blanche has joined MDM Leisure. Blanche, made redundant in cutbacks at Crown Leisure recently, will open up the north of England and Scotland for the Welsh company.
MDM, based in Cardiff, already has a depot serving London and the south of England. Blanche said: "I will be joining the MDM team on their stand at the London show where we will have several new and rebuilt products which are synonymous with MDM."
Mark Lewis, a director at MDM, said: "Mick's experience will enable us to continue to grow our business. He will set up a department in the North West."
Coastal Amusements, the US equipment supplier, has added to its sales team with the appointment of Patrick Mills.
The Boost Bingo campaign orchestrated by the UK's Bingo Association, which secured a reduction in bingo duty from 20 per cent to 10 per cent in this year's Budget, was named the winner of the Best Public Affairs Campaign category at the PR Week Awards 2014.
Coin Tech Debit Card System will be present at the IAAPA show in Orlando, Florida, next month, where the company will be showcasing its latest innovations in technology and solutions for the amusement industry.
Related articles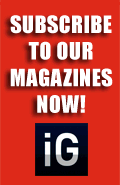 Our Publications
Our Partners