Blanche takes up MDM appointment
Industry veteran Mick Blanche has joined MDM Leisure. Blanche, made redundant in cutbacks at Crown Leisure recently, will open up the north of England and Scotland for the Welsh company.
MDM, based in Cardiff, already has a depot serving London and the south of England. Blanche said: "I will be joining the MDM team on their stand at the London show where we will have several new and rebuilt products which are synonymous with MDM."
Mark Lewis, a director at MDM, said: "Mick's experience will enable us to continue to grow our business. He will set up a department in the North West."
The Italian government is understood to be planning new regulations that will reduce the amount gaming machines reward players in prizes.
Stern Pinball has entered into a partnership with Whizbang Pinball to build and distribute the Whoa Nellie! Big Juicy Melons pinball in the spring of 2015.
Comma 6a+, a new set of regulations that will require the replacement of thousands of gaming machines in Italy, has yet to come into effect, much to the frustration of the industry.
Related articles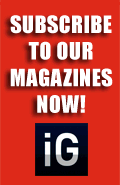 Our Publications
Our Partners