Blanche takes up MDM appointment
Industry veteran Mick Blanche has joined MDM Leisure. Blanche, made redundant in cutbacks at Crown Leisure recently, will open up the north of England and Scotland for the Welsh company.
MDM, based in Cardiff, already has a depot serving London and the south of England. Blanche said: "I will be joining the MDM team on their stand at the London show where we will have several new and rebuilt products which are synonymous with MDM."
Mark Lewis, a director at MDM, said: "Mick's experience will enable us to continue to grow our business. He will set up a department in the North West."
FEC operator TimeZone, part of the Leisure and Allied Industries group, is rolling out a new concept of carnival-inspired games at a number of its locations.
A group of 93 councils in the UK is calling on the government to reduce the maximum stakes on B2 gaming machines, also known as FOBTs, from £100 to £2.
India's Semnox Solutions has added a new Kitchen Display System for kitchen management at restaurants and food courts to its suite of products for the amusement park and FEC industry.
Related articles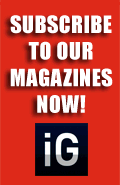 Our Publications
Our Partners