Blanche takes up MDM appointment
Industry veteran Mick Blanche has joined MDM Leisure. Blanche, made redundant in cutbacks at Crown Leisure recently, will open up the north of England and Scotland for the Welsh company.
MDM, based in Cardiff, already has a depot serving London and the south of England. Blanche said: "I will be joining the MDM team on their stand at the London show where we will have several new and rebuilt products which are synonymous with MDM."
Mark Lewis, a director at MDM, said: "Mick's experience will enable us to continue to grow our business. He will set up a department in the North West."
Cash handling equipment provider Innovative Technology, which has its headquarters in Oldham, UK, is extending its global reach further with the opening of two new sales offices, one in Australia and another in Italy.
Grand Parade Investments, the South African limited payout machine route operator, saw gross gaming revenue at its slots business jump 26 per cent.
Mehdi Eghbal has joined Canada-based manufacturer Adrenaline Amusements' sales team.
Related articles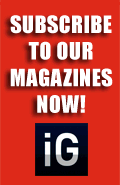 Our Publications
Our Partners