Blanche takes up MDM appointment
Industry veteran Mick Blanche has joined MDM Leisure. Blanche, made redundant in cutbacks at Crown Leisure recently, will open up the north of England and Scotland for the Welsh company.
MDM, based in Cardiff, already has a depot serving London and the south of England. Blanche said: "I will be joining the MDM team on their stand at the London show where we will have several new and rebuilt products which are synonymous with MDM."
Mark Lewis, a director at MDM, said: "Mick's experience will enable us to continue to grow our business. He will set up a department in the North West."
TAB Austria has launched a new four-player driving game, 5th Gear California, for its Fun4Four gaming table.
Greek gaming operator OPAP, which is introducing video lottery terminals to the country, reported a 15.8 per cent increase in revenues in the first quarter of the year.
The General Assembly of the European Gaming and Amusement Federation, Euromat, held today in Amsterdam, Netherlands, has elected Eduardo Antoja to the organisation's executive presidency position for the next two years.
Related articles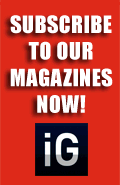 Our Publications
Our Partners