Blanche takes up MDM appointment
Industry veteran Mick Blanche has joined MDM Leisure. Blanche, made redundant in cutbacks at Crown Leisure recently, will open up the north of England and Scotland for the Welsh company.
MDM, based in Cardiff, already has a depot serving London and the south of England. Blanche said: "I will be joining the MDM team on their stand at the London show where we will have several new and rebuilt products which are synonymous with MDM."
Mark Lewis, a director at MDM, said: "Mick's experience will enable us to continue to grow our business. He will set up a department in the North West."
An operator in Devon, UK, has experienced a 40 per cent uplift in income from his 112 amusement machines after installing a cashless system.
Next week's Euro Attractions Show in Amsterdam will see the European debut of Lost Land of Adventure, a new strategic shooting game from Bandai Namco.
Cashpoint, has been chosen as one of 20 companies to receive a concession for sports betting in Germany from September 19 onwards.
Related articles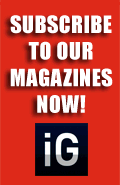 Our Publications
Our Partners