Blanche takes up MDM appointment
Industry veteran Mick Blanche has joined MDM Leisure. Blanche, made redundant in cutbacks at Crown Leisure recently, will open up the north of England and Scotland for the Welsh company.
MDM, based in Cardiff, already has a depot serving London and the south of England. Blanche said: "I will be joining the MDM team on their stand at the London show where we will have several new and rebuilt products which are synonymous with MDM."
Mark Lewis, a director at MDM, said: "Mick's experience will enable us to continue to grow our business. He will set up a department in the North West."
Inspired will be showcasing its newest VLT games and its Machete VLT cabinet at Fadja in Colombia on April 8-9.
The Belgian Gaming Commission is seeking to change the country's regulations to fall more into line with other countries that offer limited payout gambling in the street markets.
The 2015 FER-Interazar was held in Madrid, Spain, this week and attracted many of the industry's leading AWP manufacturers.
Related articles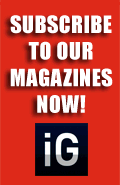 Our Publications
Our Partners