Blanche takes up MDM appointment
Industry veteran Mick Blanche has joined MDM Leisure. Blanche, made redundant in cutbacks at Crown Leisure recently, will open up the north of England and Scotland for the Welsh company.
MDM, based in Cardiff, already has a depot serving London and the south of England. Blanche said: "I will be joining the MDM team on their stand at the London show where we will have several new and rebuilt products which are synonymous with MDM."
Mark Lewis, a director at MDM, said: "Mick's experience will enable us to continue to grow our business. He will set up a department in the North West."
Amusement equipment company UNIS is to exhibit at the 12th ChinaJoy show in Shanghai from July 31 to August 3.
A ground-breaking ceremony was held earlier this month in Gangkou Town, Zhongshan City, starting work on what is to become a hub of the Chinese game and amusement industry.
According to the Spanish publication Azar, one of the most notable personalities from the Spanish coin machine industry, Juan Padrón, died on Sunday, aged 81.
Related articles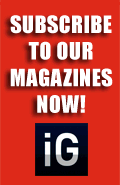 Our Publications
Our Partners