10-location contract for NEWave
Software supplier NEWave has expanded its partnership with the Muscogee Creek Nation tribe's gaming enterprise and will be installing its software solutions at 10 of its casinos across the US state of Oklahoma.
NEWave's Title 31 Manager software solution has been protecting the tribe's River Spirit Casino in Tulsa against non-compliance and fines since 2010 and now it will be installing Title 31 Manager, Tax Form Validator, TinCheck and eFile IRS at 10 additional Creek Nation properties.
Muscogee Creek Nation CEO Pat Crofts said: "We have a great partner in NEWave, and we have been very happy with the results we have had with NEWave software at River Spirit Casino. Now as we expand the relationship across our enterprise, we have absolute confidence that the NEWave team will continue to deliver the efficiencies, protection and cost savings we have experienced at River Creek Casino."
The Bermudan House of Assembly has approved new laws opening the island up for the introduction of three casinos, according to media reports.
Melco Crown Entertainment held the soft opening of its $1.4bn City of Dreams integrated resort in the Philippines last Sunday.
Japanese Prime Minister Shinzo Abe has pledged to drive through his economic reform plan after winning the general election, raising hopes a bill to legalise casinos may be back on the agenda.
Related articles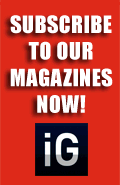 Our Publications
Our Partners