10-location contract for NEWave
Software supplier NEWave has expanded its partnership with the Muscogee Creek Nation tribe's gaming enterprise and will be installing its software solutions at 10 of its casinos across the US state of Oklahoma.
NEWave's Title 31 Manager software solution has been protecting the tribe's River Spirit Casino in Tulsa against non-compliance and fines since 2010 and now it will be installing Title 31 Manager, Tax Form Validator, TinCheck and eFile IRS at 10 additional Creek Nation properties.
Muscogee Creek Nation CEO Pat Crofts said: "We have a great partner in NEWave, and we have been very happy with the results we have had with NEWave software at River Spirit Casino. Now as we expand the relationship across our enterprise, we have absolute confidence that the NEWave team will continue to deliver the efficiencies, protection and cost savings we have experienced at River Creek Casino."
The Governor of the US state of New Jersey is not against casinos outside of Atlantic City.
Nagacorp has reached agreement with a group of investors over a new electronic gaming area in its NagaWorld casino in Phnom Penh, Cambodia.
Despite the suggestion that the Macau casino market is slowing down, last week's G2E Asia exhibition held at The Venetian Macao proved to be a positive event.
Related articles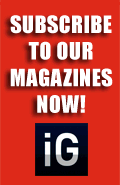 Our Publications
Our Partners