10-location contract for NEWave
Software supplier NEWave has expanded its partnership with the Muscogee Creek Nation tribe's gaming enterprise and will be installing its software solutions at 10 of its casinos across the US state of Oklahoma.
NEWave's Title 31 Manager software solution has been protecting the tribe's River Spirit Casino in Tulsa against non-compliance and fines since 2010 and now it will be installing Title 31 Manager, Tax Form Validator, TinCheck and eFile IRS at 10 additional Creek Nation properties.
Muscogee Creek Nation CEO Pat Crofts said: "We have a great partner in NEWave, and we have been very happy with the results we have had with NEWave software at River Spirit Casino. Now as we expand the relationship across our enterprise, we have absolute confidence that the NEWave team will continue to deliver the efficiencies, protection and cost savings we have experienced at River Creek Casino."
Myanmar is still working on completing a gambling bill and hasn't issued any casino licences yet, according to a spokesman for the Ministry of Hotels and Tourism.
Alex Pariente has been named executive vice president of international marketing for the Baha Mar Casino and Resort, the centrepiece of the $3.5bn integrated gaming resort in the Bahamas.
Novomatic, Europe's largest integrated gaming group, recruited more than 1,700 new staff during the first half of the current fiscal year and was able to increase its revenue by 15 per cent to a new record high.
Related articles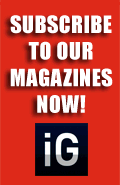 Our Publications
Our Partners