IGT plans systems installations
IGT is to install its systems at two BorderTown properties in the US upon receipt of regulatory approval.
The IGT systems are replacing BorderTown's current competitor systems.
"We were attracted to IGT's systems because they provide a solution that will allow us to deliver successful game experiences to our players," said Jerry West, general manager, BorderTown. "The ability to manage the games and themes on our floor to cater to our players' preferences will enable us to deliver a more valuable entertainment experience."
IGT's Advantage and sbX systems will enable BorderTown Casinos to deliver engaging player experiences by quickly making decisions regarding game content and themes. They will also be able to successfully integrate a one-card solution that would drive player loyalty to allow for cross-property credit and rewards, something which was previously unattainable with their existing system.
"We are so pleased that BorderTown has chosen IGT as its systems solution provider," said Eric Tom, IGT EVP of North America sales and global services. "By choosing IGT's holistic systems vision, our current customers are provided an even stronger sense of validation."
In a unanimous decision New Jersey officials have declared that MGM is permitted to reclaim its 50 per cent ownership of the Borgata in Atlantic City.
Alex Bumazhny of Fitch has issued a caution over the debt being taken on by supplier companies during the current acquisition binge.
MGM is attempting to re-enter the Atlantic City casino industry after reviewing its decision to surrender its 50 per cent stake in the Borgata Hotel Casino.
Related articles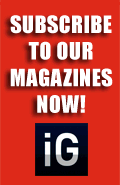 Our Publications
Our Partners