Full House in $70m casino acquisition
Full House Resorts is to take over Silver Slipper Casino in Mississippi, US, in a deal worth $70m.

The move will see Full House, which already operates casinos in Indiana, Nevada and New Mexico, take control of all of Silver Slipper Casino Venture's outstanding interest in the property. Although subject to regulatory approvals, Full House anticipates completing the deal by the third quarter of the year.
Silver Slipper Casino, which opened in 2006, boasts 37,000sq.ft of gaming space and around 1,000 slot and video poker machines, 26 table games, a poker room and live keno.
It is "perfectly sized" to complement Full House's current business, said CEO Andre Hilliou.
"This transaction is consistent with our long-stated growth strategy and we believe it will create long-term shareholder value," he said. "Under the leadership of the current management team, the property is well-run and well-maintained; however, we believe that we can leverage our knowledge and proven track record of managing properties catering to local customers in competitive environments to further improve the profitability of the Silver Slipper."
It looks like Crown Resorts won't get its casino in Sri Lanka.
Industry experts are saying that Macau's transport infrastructure has failed to keep pace with the territory's rapid rise to become the world's largest gambling hub.
There appear to be two more South Korea casino projects on the horizon.
Related articles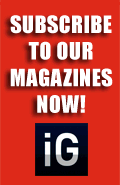 Our Publications
Our Partners