New slot hall planned for Cambodia-Thai border
Entertainment Gaming Asia is to develop a new $7.5m slot hall as part of an existing casino in Poipet, Cambodia, near the border with Thailand.
The project will be an extension of a Cambodian-owned casino, connecting to the main casino's table game floor. The slot floor will operate under the casino owner's existing licence but will be branded under EGA's Dreamworld name.
The 12,000sq.ft property will house 300 electronic gaming machine seats, as well as entertainment and food and beverage offerings.
Under the terms of the agreement, EGA will fund the development, construction and operation of the slot hall. The casino owner, meanwhile, will share the daily net win generated by the gaming machines.
"We are making solid progress in expanding our gaming operations in emerging and growing gaming markets in the Indo-China region," said Clarence Chung, chairman and chief executive officer of Entertainment Gaming Asia. "This strategic new project in the desirable Poipet market in the Thailand border offers attractive potential returns and expands our footprint and awareness of the Dreamworld brand in our target markets."
The slot hall is expected to open in December.
Casino and entertainment giant MGM Resorts International is hoping that its case for $1bn gambling complex in the centre of Atlanta in the US state of Georgia will gain the backing of the state's general assembly and the governor's office.
The Winbet casino chain has selected Euro Games Technology to supply machines to its new casino in Minsk, Belarus.
JCM Global CEO Yojiro Kamihigashi has appointed long-time JCM leader Hikaru "Terry" Izawa as president of JCM Global, subject to regulatory approvals.
Related articles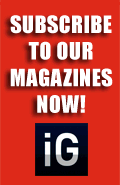 Our Publications
Our Partners