Asian table gaming market holds firm for GPI
Strong sales in Asia boosted Gaming Partners International's performance in 2011, company president and CEO Gregory Gronau said.
For the fourth quarter of 2011, the US-based company reported revenues of $14.6m and net income of $600,000, compared with $16.6m and $1m for the same period a year earlier. Gross profit for the quarter was $4.2m.
Revenues and net income for the full year stood at $61.1m and $3.7m, respectively. This compared with revenues of $59.9m and income of $4.4m in 2010. Gross profit was down $2.4m at $19.5m.
The increase in revenue in 2011 was attributed to an increase of nearly $7.7m in revenue of European-style casino chips for Asian casinos, including the Galaxy Macau and SJM casinos, and $1.6m in RFID solutions revenue.
The increase was offset, however, by a $5.4m decline in American-style casino chip revenue and a $2.7m fall in furniture, accessories and layout sales in the US.
"We closed out 2011 with a strong year for sales in Asia," said Gronau. "This reflected the opening of the Galaxy Macau casino, with both chip and RFID solution sales, as well as rebranding and replacement sales with Macau, Singapore and Malaysia casinos.
"For 2012, we expect to leverage our expanded chip mould making and design capabilities for our global customers to improve their chip security, branding and promotions. Additionally, we will continue to pursue potential strategic acquisitions and partnerships to grow our business."
Apex Gaming's new iDrop cash management accounting solution created a great deal of interest at the recent G2E Las Vegas show, company founder and CEO Johannes Weissengruber said.
Caesars Entertainment is reported to be planning to build a $1bn casino resort in the Philippines.
With an estimated US$105m investment, the new Ocean Sun Casino is an ambitious project in Panama.
Related articles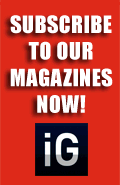 Our Publications
Our Partners