Asian table gaming market holds firm for GPI
Strong sales in Asia boosted Gaming Partners International's performance in 2011, company president and CEO Gregory Gronau said.
For the fourth quarter of 2011, the US-based company reported revenues of $14.6m and net income of $600,000, compared with $16.6m and $1m for the same period a year earlier. Gross profit for the quarter was $4.2m.
Revenues and net income for the full year stood at $61.1m and $3.7m, respectively. This compared with revenues of $59.9m and income of $4.4m in 2010. Gross profit was down $2.4m at $19.5m.
The increase in revenue in 2011 was attributed to an increase of nearly $7.7m in revenue of European-style casino chips for Asian casinos, including the Galaxy Macau and SJM casinos, and $1.6m in RFID solutions revenue.
The increase was offset, however, by a $5.4m decline in American-style casino chip revenue and a $2.7m fall in furniture, accessories and layout sales in the US.
"We closed out 2011 with a strong year for sales in Asia," said Gronau. "This reflected the opening of the Galaxy Macau casino, with both chip and RFID solution sales, as well as rebranding and replacement sales with Macau, Singapore and Malaysia casinos.
"For 2012, we expect to leverage our expanded chip mould making and design capabilities for our global customers to improve their chip security, branding and promotions. Additionally, we will continue to pursue potential strategic acquisitions and partnerships to grow our business."
SuzoHapp has received the first order for its Interactive Pro Snapshot LCD buttons from gaming machine manufacturer Aruze Gaming Group.
The Rank Group today announced a five per cent like-for-like revenue increase for the 20 weeks to May 17. Group brand revenues show that Grosvenor Casinos is up seven per cent, again on the like-for-like basis, while Mecca has risen three per cent.
Gaming Laboratories International has doubled the size of its operation in San Cugat, Barcelona, Spain - in response, it said, to the increasing demand for its services.
Related articles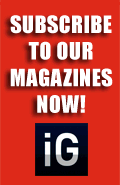 Our Publications
Our Partners