Tamburelli to lead Pennsylvania casino
Michael Tamburelli has been appointed general manager of US-based operator MTR Gaming Group's Presque Isle Downs and Casino in Pennsylvania.
Tamburelli succeeds former president and general manager Fred Buro, who was recently promoted to the role of chief marketing officer and vice president of MTR Gaming.
He brings more than 30 years of gaming industry experience to the role, including senior management roles at properties in Oklahoma and Kansas. He previously spent 14 years with isle of Capri Casinos in a variety of roles.
"Michael brings many years of senior management experience with him and we are confident he will excel in his new role as general manager at Presque Isle Downs and Casino," said Joseph Billhimer, chief operating officer of MTR Gaming.
Presque Isle Downs and Casino features live poker and table games, slots and horse racing facilities.
Pansy Ho, MGM China's co-chair, has warned that China's restriction on visas to Hong Kong is damaging to Macau.
The Balkan Entertainment and Gaming Exhibition in Sofia, Bulgaria, was Apex Gaming's chosen platform for the launch of a new version of its Pinnacle upright cabinet featuring larger monitors.
A decline in revenue at its Macau property hit Wynn Resorts' third-quarter results but the casino operator's income was up on the previous year.
Related articles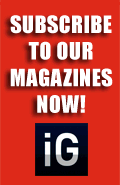 Our Publications
Our Partners