Gaming jobs 'under threat' in Tasmania
A gaming operator has warned that new gambling rules coming into effect this week in Tasmania may lead to job losses.
The Responsible Gambling Mandatory Code of Practice for Tasmania was first introduced in September last year, with several new rules taking effect on Thursday.
These include the requirement that gaming machine operators position clocks in areas where gambling takes place to "assist people to be aware of the passage of time," as well as a AUS$400 per day limit on withdrawals from ATMs located in casinos.
In September, new rules relating to advertising, inducements and player loyalty programmes will come into effect.
Daniel Hanna of Federal Hotels, one of Tasmania's main operators, said the new rules could cost the company AUS$20m and may result in 150 jobs being lost.
"We don't think that these measures are justified and backed up by any research to demonstrate that they would have any social benefit when weighed up against this very large cost," he told ABC. "Casinos operate in a very competitive environment. They compete with mainland casinos and they also compete with online casinos as well.
"We're very worried that this will simply transfer a lot of that business out of the state."
SuzoHapp has received the first order for its Interactive Pro Snapshot LCD buttons from gaming machine manufacturer Aruze Gaming Group.
The Rank Group today announced a five per cent like-for-like revenue increase for the 20 weeks to May 17. Group brand revenues show that Grosvenor Casinos is up seven per cent, again on the like-for-like basis, while Mecca has risen three per cent.
Gaming Laboratories International has doubled the size of its operation in San Cugat, Barcelona, Spain - in response, it said, to the increasing demand for its services.
Related articles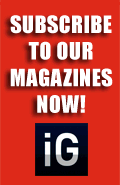 Our Publications
Our Partners