Cherry Chance Royal Wild - Aruze Gaming
Aruze Gaming is launching Cherry Chance Royal Wild, a five-reel, five-line stepper game.


Featuring large reels with variable speeds of up to 200RPM and lighting effects from 240-plus LEDs illuminating the reels, Cherry Chance Royal Wild brings a new twist to a classic gaming concept, the company states.
When the Cherry Chance symbol appears on reel three, the 'Chance' symbol at the top left of the reels flashes and continues to flash for up to eight games. While the symbol flashes during these games, the reels are improved for greater chances of large wins. The game also features an optional Standalone Progressive Jackpot. When the game is set for a Standalone Progressive, five Wild symbols trigger a Progressive Jackpot win.
A bill to legalise casinos in Japan is facing yet more delays as pro-casino lawmakers struggle to gain enough support in the ruling coalition.
MGM Resorts International broke ground on its $800m west Massachusetts casino project this week.
Gary Loveman, CEO for Caesars Entertainment, has stated he believes the industry is on the mend.
Related articles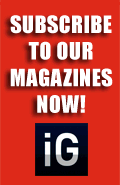 Our Publications
Our Partners