Cherry Chance Royal Wild - Aruze Gaming
Aruze Gaming is launching Cherry Chance Royal Wild, a five-reel, five-line stepper game.


Featuring large reels with variable speeds of up to 200RPM and lighting effects from 240-plus LEDs illuminating the reels, Cherry Chance Royal Wild brings a new twist to a classic gaming concept, the company states.
When the Cherry Chance symbol appears on reel three, the 'Chance' symbol at the top left of the reels flashes and continues to flash for up to eight games. While the symbol flashes during these games, the reels are improved for greater chances of large wins. The game also features an optional Standalone Progressive Jackpot. When the game is set for a Standalone Progressive, five Wild symbols trigger a Progressive Jackpot win.
China's crackdown on gamblers is being extended beyond Macau to Taiwan.
Apex Gaming has announced that the iDROP has been approved by GLI Austria to the GLI-20 standard.
Clarion Events has announced that the second Japan Gaming Congress will take place in October in Tokyo, with the country's politicians currently preparing to debate significant legislative changes for the industry.
Related articles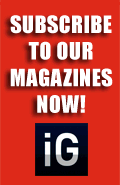 Our Publications
Our Partners