Cherry Chance Royal Wild - Aruze Gaming
Aruze Gaming is launching Cherry Chance Royal Wild, a five-reel, five-line stepper game.


Featuring large reels with variable speeds of up to 200RPM and lighting effects from 240-plus LEDs illuminating the reels, Cherry Chance Royal Wild brings a new twist to a classic gaming concept, the company states.
When the Cherry Chance symbol appears on reel three, the 'Chance' symbol at the top left of the reels flashes and continues to flash for up to eight games. While the symbol flashes during these games, the reels are improved for greater chances of large wins. The game also features an optional Standalone Progressive Jackpot. When the game is set for a Standalone Progressive, five Wild symbols trigger a Progressive Jackpot win.
The number of casino companies interested in South Korea continues to grow.
IGT has appointed Angela Houslay as director of international systems sales for commercial gaming, effective from June 1.
Nevada's 151,000 slot machines are, by law, purely games of chance, meaning everyone has the same chance of winning.
Related articles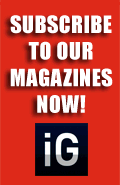 Our Publications
Our Partners