SkyCity calls for level playing field in Adelaide
In Australia, SkyCity Entertainment has ruled out investing in the redevelopment of its Adelaide Casino as part of the city's Riverbank Precinct project until new regulatory arrangements are confirmed.
The state of South Australia is aiming to transform the Riverbank Precinct, which includes the Adelaide Oval stadium, into a major tourism destination. Plans have been put forward for Adelaide Casino to be upgraded and its gaming facilities expanded within the precinct.

The operating and regulatory arrangements governing the casino are presently being reviewed by the state government's task force, and SkyCity chief executive Nigel Morrison confirmed that the company would continue to work with the government to finalise these arrangements once the review is concluded.

"While we remain excited about the prospect of a significant investment in the Adelaide Casino, from SkyCity's perspective no investment can be committed to, until we have certainty regarding the future regulatory arrangements and can be confident of delivering our shareholders an appropriate return on this investment," he said. "Our view has always been that should the Adelaide Casino be given a level playing field with other Australian casinos regarding regulation, we can justify a significant investment in the Adelaide Casino and reposition it as a true entertainment and tourism destination in the Riverbank Precinct."

Revenues from the 11 casinos in the US state of Mississippi fell 2.9 per cent to $175.1m in August, down from $180.3m in July 2014.
Software company GameAccount Network has extended its existing partnership with a major undisclosed US casino operator to deploy GAN's Sense3 mobile casino real-money gaming product for existing patrons from Q1 2015.
Asian Coast Development, the owner of the Grand Ho Tram Strip casino development in Vietnam, has received a funding commitment totalling $50m from its majority shareholder, Harbinger Capital.
Related articles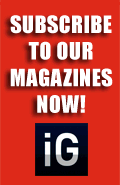 Our Publications
Our Partners