Macau stronger than expected
Macau is looking stronger in September than expected.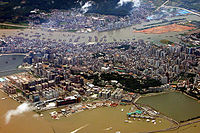 Table game revenues through the 15th are up 25 per cent to $1.8bn. That is ahead of what will likely be another strong weekend thanks to the Mid-Autumn Festival that begins on Thursday and October should be boosted by Golden Week, which begins on the first.
The numbers prompted Dave Bain of Sterne Agee to up his September growth estimate from 16 to 21 per cent. Cameron McKnight of Wells Fargo is now expecting 20 to 24 per cent growth, up from his prior forecast of 18 to 22 per cent.
Growth is rising even outside of Macau. Visitation to the eight casino boats out of Hong Kong is up nine per cent to 615,328 passengers in the first half of the year, Bloomberg reported. Those boats are owned by Genting Hong Kong and Success Universe Group, both of which trade on the Hong Kong Stock Exchange.
Cheaper rooms and easier visa requirements are attracting mainland Chinese gamblers to the boats. Rooms are as low as $52 a night compared to the $175 a night Macau hotel rooms averaged in July.
Macau casino operators say the boats have little effect on their casinos.
Source: Fantini's Gaming Report
Gaming testing laboratory BMM Testlabs is expanding its testing lab facility at its global headquarters in Las Vegas in the new year.
Japanese lawmakers from the ruling Liberal Democratic Party have submitted a bill to legalise casinos to parliament, bringing the nation closer to opening up what is estimated to be the world's second-largest gaming market.
An integrated casino resort in Tokyo, Japan, could generate $6.8bn a year in revenue and one in Osaka could generate $6.5bn, Steve Kent of Goldman Sachs says in an update on the potential markets.
Related articles
Our Publications
Our Partners